I got an invitation in 2010
I moved to Amsterdam in 2002 as I went to study there at the Gerrit Rietveld art academy. In 2007 I graduated and continued living in Amsterdam for another 5 years  to gain some experience as an artist. I got an invitation by Uniarte in 2010. It was to participate in a group exhibition with other artists from the Dutch Caribbean living in the Netherlands. This was a great opportunity to meet and connect with each other, it was also called Meet & Greet. Some of the artists I knew from back in Curaçao,  but not how they developed as artists. There was excitement and the unity you feel being from the same country. In this way we started to support each other.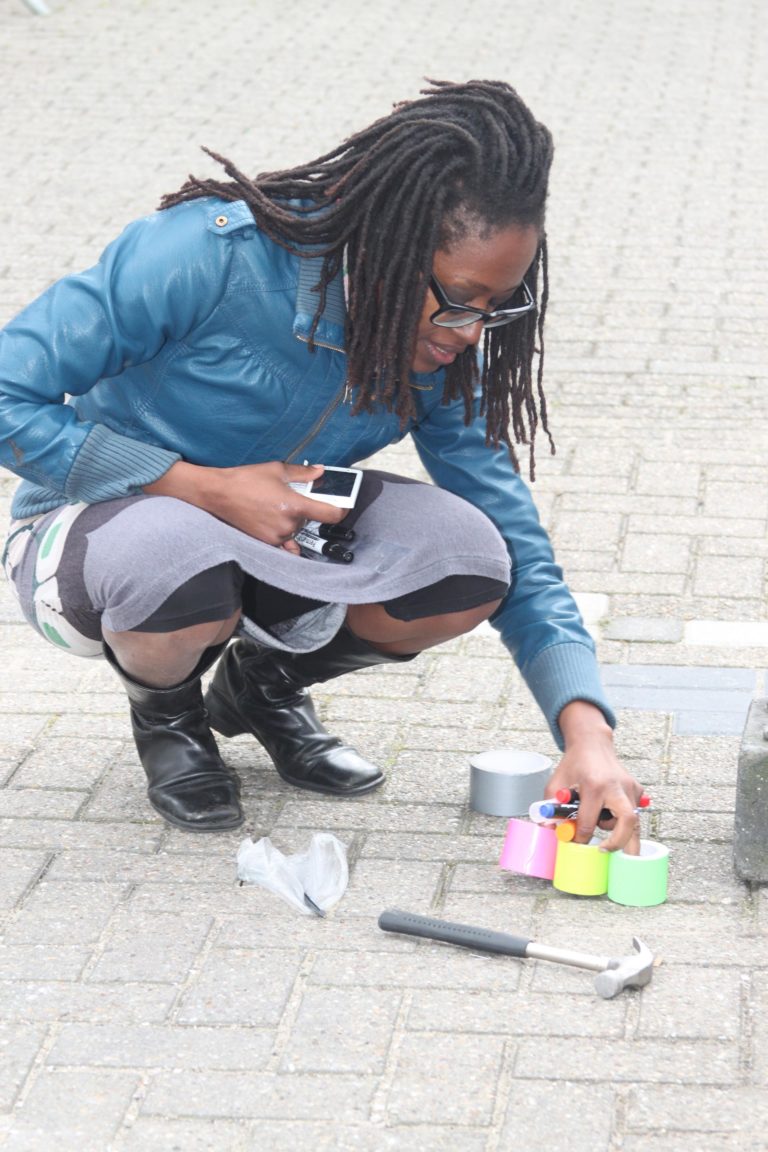 I got invitations to other exhibitions thru recommendations of other artists, such as Brett Russel, one exhibition was organized with the Curaçao Tourism Board in Berlin, Germany. There I saw Sharelly Emanuelson's Su Solo y Playanan and it made me cry and very nostalgic. I already knew I had to return to Curaçao soon. I became a member and we met on several more occasions. I remember there was a Uniarte website where you could post your events.  
Back in Curaçao I looked for a space to work. It was 2013. First I squatted an old plantation house, but not for long. Then I wrote proposals for an atelier space in empty buildings, but I didn't have much success. I met other artists who had the same need for a space and we formed a collective called Loft of Artists. Finally I got us a space at Capriles Kliniek but they just wanted me and maybe 2 more artists to work there. We were about 14 people and they cancelled the proposal. That same year, I think it was 2015, Sharelly returned to Curaçao and continued Uniarte. She found the building Casa Moderna.  The timing was perfect for me. I could make the art work Map of Curaçao II, which was a project of 2 years. I met one artist I knew from Uniarte Amsterdam and I invited another artist who just graduated from art school in Rotterdam. Hector Raphaela and Arnold Bakker helped me with completing the work Map of Curaçao II. During the remodeling of the building Casa Moderna we learned how much need there was for a space where artists could work. The artists from LoA (Loft of Artists) moved to Casa Moderna and if they didn't, they had an exhibition there. But there was a huge need for a central space where creativity could thrive ánd where anyone could be involved in the art scene happening on the island.To be able to run the space Uniarte rented out the ground floor for workshops, parties and other events. We looked for many forms to keep Uniarte going and to grow awareness of this incubator. The concept was still new on the island. 
I invited artists to participate in themed group exhibitions with the purpose to show the artists on the island that this was their platform, but also to encourage artists to step up their game. One was: Showcase Your Art. The challenge was to transform the shopping showcase of the Casa Moderna building into an art installation with your art. Casa Moderna is in the middle of the city center and many people, also tourists, could see the art. But it was not only for artists to promote themselves but also how to display their work. We learned that what is successful is when a show or party element is contributed to the art event. For example the photoshoot by Brett Russel combined with a party sponsored by a liquor company was a huge success. Also the workshop of the fashion designer David Paulus who loves to share his expertise with those who are into the fashion world. The result of the fashion course resulted in a fashion show that made the TV and headlines. What I also got to learn hosting the artist-in-residencies is that if the artist is unknown, almost nobody is interested, just the core group of our network. The visitors changed per event, and we found this a good thing. We got to connect in this way with all layers of society. Uniarte became a well known concept in society. With my experience of doing PR for myself, and for Instituto Buena Bista, I did the PR for Uniarte. The press always showed up at our events and helped establish Uniarte in a great way. 
Another succesful event Uniarte hosted uniting the film industry on the island were the Cinema Moderna evenings: we would screen local and regional movies with a Q&A. The film screenings were intimate and always full and the filmmakers could meet and come up with new initiatives in a relaxed setting. Sometimes depending on the movie a specific crowd showed up. Once a famous older Dutch actor came and gave an artist talk from how he started spontaneously, in theatre to becoming an actor on screen and the difference between the two worlds. It was as if we had the entire Dutch elite living in Curaçao in Casa Moderna. 
To pay rent for my working space in the form of a contribution, motivates me to earn money with my artistic activities. We made souvenirs to sell in the Casa Moderna Shop, I gave workshops. I got asked by schools and I could always invite children or teens to attend a creative workshop at Casa Moderna because of the space. This to me gave me a sense of professionalism. Just like a lawyer goes to his law firm, I as an artist go to my working space, Casa Moderna.
Galleries and museums on the island such as Gallery Landhuis Brievengat and the Curaçao Museum saw the benefits of Uniarte as to be the pulse of the contemporary art movement on the island. They wanted to be connected to this to be updated and scout new artistic talent. Uniarte hosted next to individual artists also a theatre company called Teatro Kadaken. Teatro Kadaken had a group of young aspiring actors and one of these youngsters also took an art space for himself. He is not only an actor, also a dancer, performer and does spoken word. He started together with his friends the collective MalSam. They had a lot of deep conversations, creative spoken word and rap sessions, jam sessions and organized experimental events with the visuals they made. As I was developing my collage techniques myself, they were observing what I did and got inspired to make collages too. All artists actually influence each other and cross contaminate each other. I also got influenced by the artists that came for an artist-in-residency. The collage making caught on and this is one excellent outlet to display influences, add your own humor and esthetics and create new imagery. 
The museum of Curaçao asked me to be a bridge between upcoming artistic talent and the museum in the form of me curating the exhibitions 'Hiza Buta'. To me this is also a serious attempt to learn about curating and building a bridge between artists in the Curaçao art scene. Uniarte helps me in this. It is also the case with the every 3 years Open Atelier Route. I was asked to join the team with Ellen Spijkstra and Marcel van Duyneveldt. This was a success in the sense that artists really connected with each other thru having a common space to meet at Casa Moderna and at the atelier of an artist who opened her space (Gwen Anderson). Again I put in my PR skills that I got to develop thru my work at IBB and Uniarte: the social media, the press and life tv-shows with other artists. The reason Spijkstra and Van Duyneveldt asked me to join is that I reached more local artists. It was for me a personal success to see the local artist meet and greet each other, break down barriers, the original idea of Uniarte.