I am an Afro caribbean, mixed media artist born in Curacao. My work is usually a mix between conceptualism and spirituality. My projects allow us to experience the theme space in different perceptions. The techniques and materials I use as an artist are my personal mediums in the fulfillment of my concepts. The variety of materials and techniques used depend on the story I wish to convey. A certain "link" between myself and the materials I opt for is a determining factor. Colors are used symbolically and I usually try to incorporate the material in such a manner that its original color provides additional value. So far I have been fascinated by the theme space, thus in the broadest sense of the word. Physical space, space between people, interspace, open or closed spaces, but also spiritual, political and social spaces. The way in which we interact with our surrounding space and how we move within the space. I am constantly researching and I also involve the public in this process.
Techniques and materials are, as I said, a means for me to record my concepts. I use different materials and different techniques depending on the story I want to tell. The space given is also of great importance during my work. My choice of materials arises from memories, a feeling, or symbolism. For example, I use indigo blocks (blous) for protection (culture-related tradition), but I can also choose metal because it feels chilly and cold, which is necessary in my work at that time. I am constantly researching. When conducting research, it is also important to look at colleagues in the region. We often deal with the same themes and I find it enriching to be informed of developments by fellow artists.
"As we become part of the landscape, we will hopefully take better care of it together".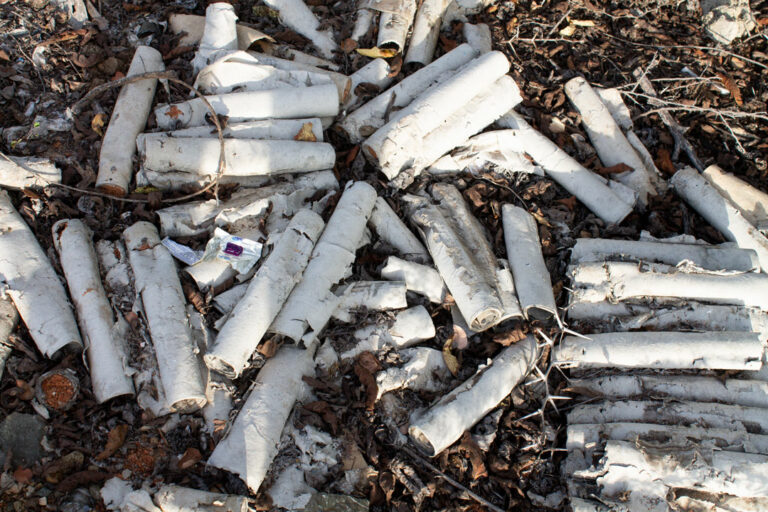 Environmental Poetry
'Environmental Poetry'. I started this project in 2019. Environmental Poetry in general explores the complicated connections between humans and nature and is often written by poets who are concerned about our impact on the natural world. In this case, I'm exploring this human-nature relationship, hoping to trigger a shift into my own consciousness and that of my audience. My work is never about making beautiful pieces that offer pure entertainment and this project 'Environmental Poetry' is partly my responsibility as an artist to contribute to this political/social matter.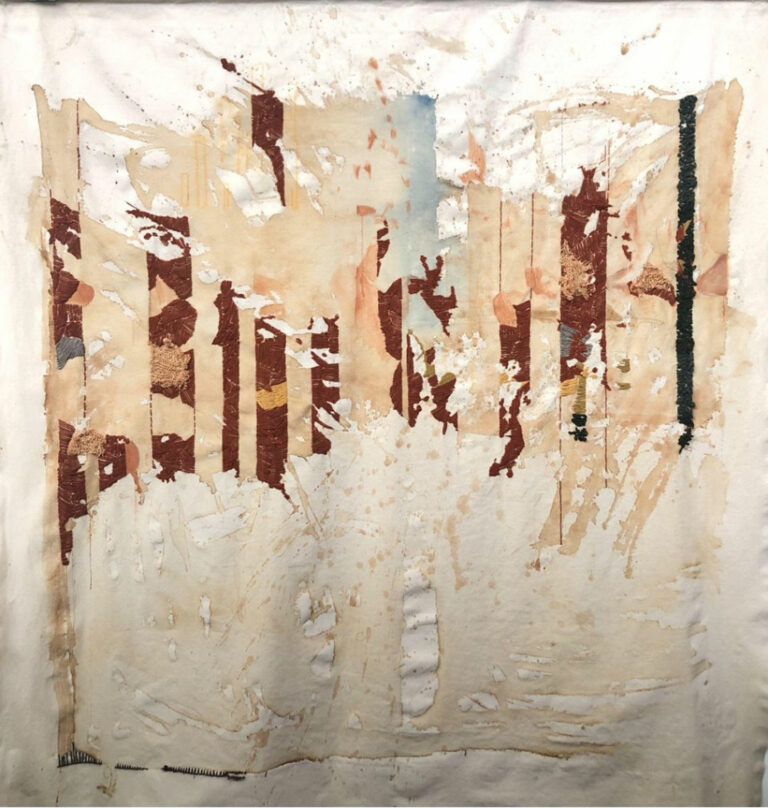 My goal is to make a series of abstract visual documentations based on archaeological studies and my own beliefs and experiences. As we become part of the landscape, we will hopefully take better care of it together.
For the UniArte 6+ Open Call, I started a piece using the same techniques I used in the first series of wall objects of the "Environmental Poetry" series. A combination of painting/drawing and intuitive embroidery techniques, using both natural and manmade materials to create the wall installation/piece depicting environmental issues. I will consciously choose a combination of environmentally friendly natural materials and non eco friendly manmade materials for this project. Natural dyes, (made with local fruits and vegetables and local soil) 100% cotton thread and canvas combined with archival pen/marker and other mixed materials depending on the environmental issue I am going to visualise.
"The initial plan was to make a piece about water pollution or land pollution on the Island or in general in the Caribbean".
My theme changed during the experimentation phase. The initial plan was to make a piece about water pollution or land pollution on the Island or in general in the Caribbean. But I decided to revisit the theme 'deforestation' but to approach it differently this time. I often look back at previous work before I start with new work. And one particular work that stood with me was  the piece I made in 2019.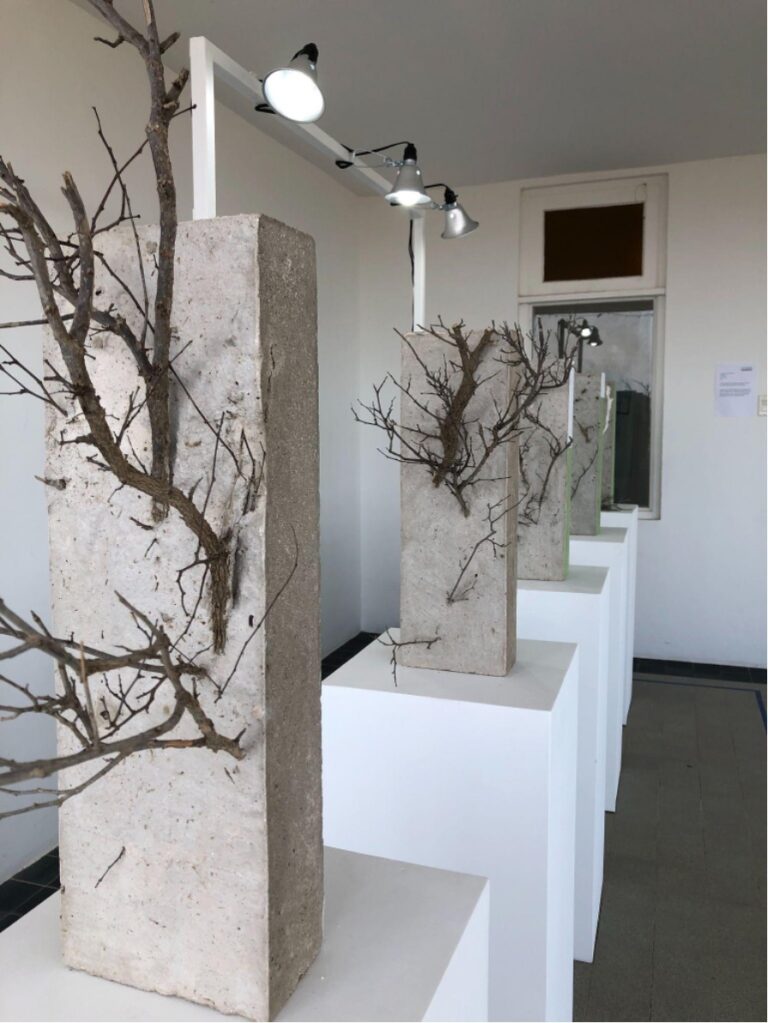 I own this piece of land (2019)
'I own this piece of land'. This piece is about local 'deforestation'. In the process of "making the space our own" we sometimes forget we are causing serious damage to our ecosystem. These solid concrete blocks are a symbol for human invasion and disbalance against nature. The branches used in this installation were picked at a new construction site that has been stripped. This is a phenomenon that happens in the Caribbean too, maybe on a smaller scale but it happens too often. We remove our "mondi" for commercial space or to build new houses. In our native language we call it: 'Roza MONDI'. By doing this we are changing the Caribbean landscape and replacing the natural colors for a colorful artificial pallet.
Another aspect that influenced my choice was a conversation with anthropologist Maria Faciolince Martina. She saw the first part of this Environmental poetry project during the Open Atelier Route in june of 2021. We spoke about our local landscapes and how they are connected to the colonial history of the Islands. And also about creating platforms that collaborate with art, to talk about major environmental changes taking place worldwide. I strongly believe that art offers a platform to talk about this topic.
As a result of the changes I decided to add a new material to the piece. Cement is a non- environmental friendly material used to replace nature. Cement has its own environmental and social impacts. Concrete causes damage to the most fertile layer of the earth, the topsoil.
The workproces
I started building the first layers on my canvas with soil. Creating a landscape. Almost like an aerial map. Combining a soil painting with pen drawing. As I mentioned in my proposal I will be making this piece intuitively. As inspiration I chose an area where a large part of the terrain has been recently "stripped" to build. The embroidery part starts when the first layers are fully dried. This is the part that connects me most with the work, combining sharp edges with these organic stitches. Working on the piece, playing with these different materials feels like I am restructuring/ redirecting the new composition of this area.
This piece is still a work in progress. I will be adding more layers. The piece will be evolving just like these new construction sites.
Feedback
As I mentioned before, this is my way of contributing to a theme that should concern all of us through art. Follow the development of this piece through my website, ailsaanastatia.com and or my instagram page, iamailsa.anastatia, and feel free to reach out.
A special thanks to UNIARTE for selecting me as one of the UNIARTE 6+ artists and building this online platform that Unites Us as Caribbean Artists.