In the Caribbean cosmogony, many fables and beliefs use metaphors to find a sense of purpose in order to solve a historical identity crisis, in a region with cultural gaps and diverse influences, which come as a consequence of colonialism.
This short essay is a 'portfolio' about my process during 2 months of artistic creation in the Southeast area of Amsterdam. During the residency period in BijlmAIR (the artist-in-residence program of CBK Zuidoost) I successfully created 9 large paintings, 2 small ones and 10 drawings of variable measurements.
It was my intention and motivation to continue my artistic research during my stay in Amsterdam, exploring the link between many Caribbean stories, myths, and legends and people living in the Amsterdam Zuidoost area. The following project is an exploration of the underlying moralistic mechanisms embedded in folktales and other oral traditions. Through different mediums, I collected narratives from different cultural backgrounds and used them to recontextualize a series of artworks. This project makes use of art as a tool for communication and reflects on how memories can create and reinforce structures of identity. The project has two components. Its first component was the creation of paintings and drawings inspired by the Bijlmermeer neighborhood. The second component was producing a short documentary describing local symbols and showing some ideas behind my creation process.
This initiative uses art as a communicator in affirming identity narratives, and the important roles of the individual in their communities. I decided to name this project Collective Conjunctions, to illustrate the role of art as a narrative tool in finding singularities and connections between different groups of people, focusing on themes such as social justice, decolonization, Caribbean art context, migration, identity, exile and other symbolisms.
Thank you UniArte and CBK Zuidoost for support my artistic practice.
Samuel Sarmiento teaser (Documentary 2021 – 2022)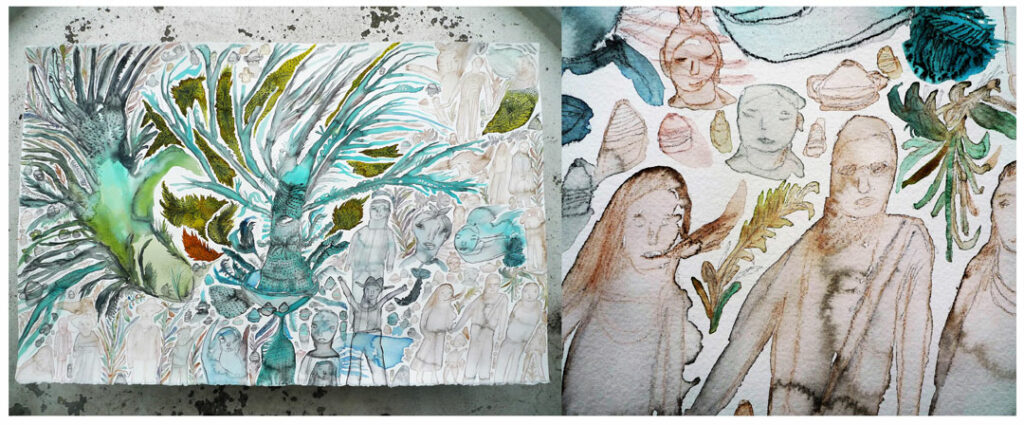 ¨Untitled (De Boom Die Alles Zag / El Árbol que Lo Vio Todo)¨. Mixed media on paper. 67 x 101cm. 2021.
For this drawing, I took a lot of references from the community to create a story that could sound like fiction but is in fact close to reality.
In some Caribbean communities, the cult of ancestors is connected to nature as part of a system of beliefs where life and death are rites of passage in a cosmic transit. The trees are considered sacred because they represent the connection with our ancestral past. On these islands we can see that trees such as the 'Ceiba' are part of important animistic practices and fulfill an important role in how people make offerings to their ancestors. During my artistic residency, I felt attracted by a monument of great historical importance in this community. In 1992, a plane crashed at the Bijlmer area changing the lives of many people.
And in the same way that the 'Ceiba' represents a place of refuge for spirits and the passing of time, it is believed that a giant Tree at the Bijlmer Park witnessed everything that happened that day. I choose to think that this Tree serves as a bridge between the community and the victims of the crash.
On this art piece, I decided to give importance to the sacrality of this element. In fact, this mystical figure from nature is contrasted from the rest of the gray-ish "day to day" with a blue and green palette.
I see the aquarelle as an interesting medium because it is a direct way to create surfaces through a delicate technique. All of the faces, expressions and details on this drawing were made with mineral marvels and natural pigments. For me, drawings are a compelling way to tell stories that usually never appear on a painting.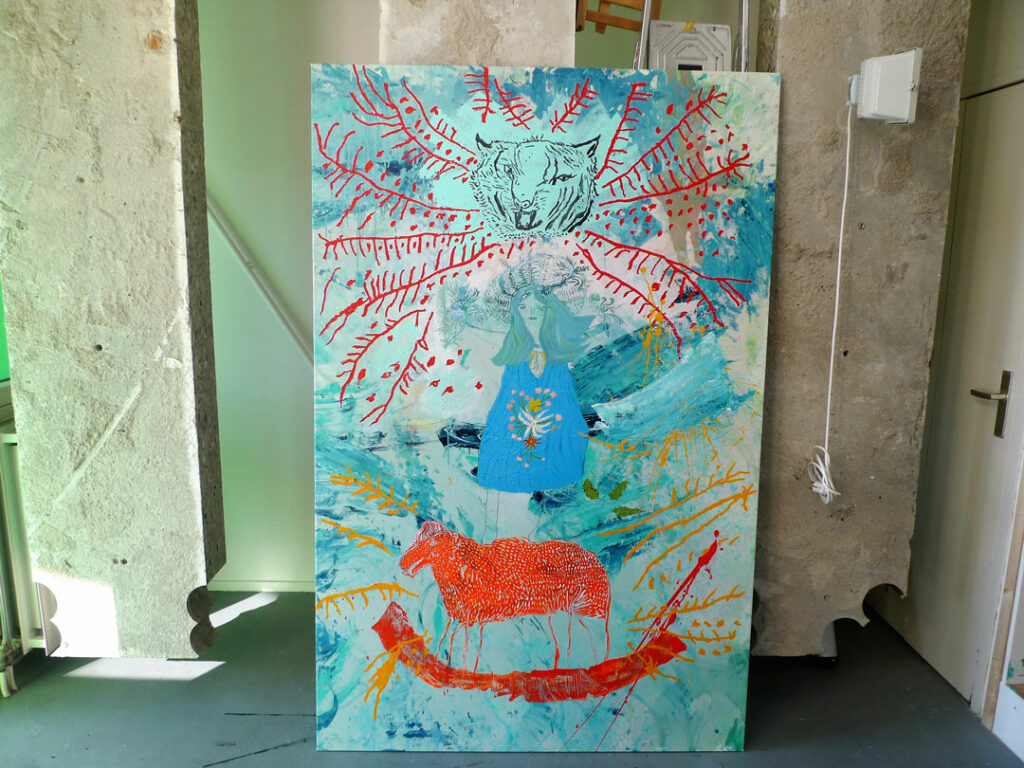 ¨Untitled¨. Mixed media on canvas. 200x130cm. 2021.
'Untitled' is a piece where we can see a central character holding flowers through a diverse gradient of blue. As many of my characters this woman has her eyes closed. This characteristic is a reference to the statue of 'The veil of Isis', clearly linked to occultism and how knowledge is a challenge for the human mind. There is an inscription at the sculpture feet: "I am all that has been and is and will be, no mortal has ever lifted the veil that covers me".

At the same time, the woman on my painting is looking glorious standing on top of a Tapir, just like 'Maria Lionza' a goddess queen of Indians and African slaves, a popular goddess in animistic cults in Venezuela. I'm very interested in the concept of 'anima' created by Carl Jung, which refers to the feminine side of human nature and at the same time is connected to archetypical images as water and maternity, nature and restoration, and night and intuition. In the same way ' the veil of Isis' appears as an enigma, I believe the humanity is trying to connect with their shadows or anima often left unconscious.
On my painting this character brings this concept to life again behind a peaceful expression in opposition of a stormy blue…